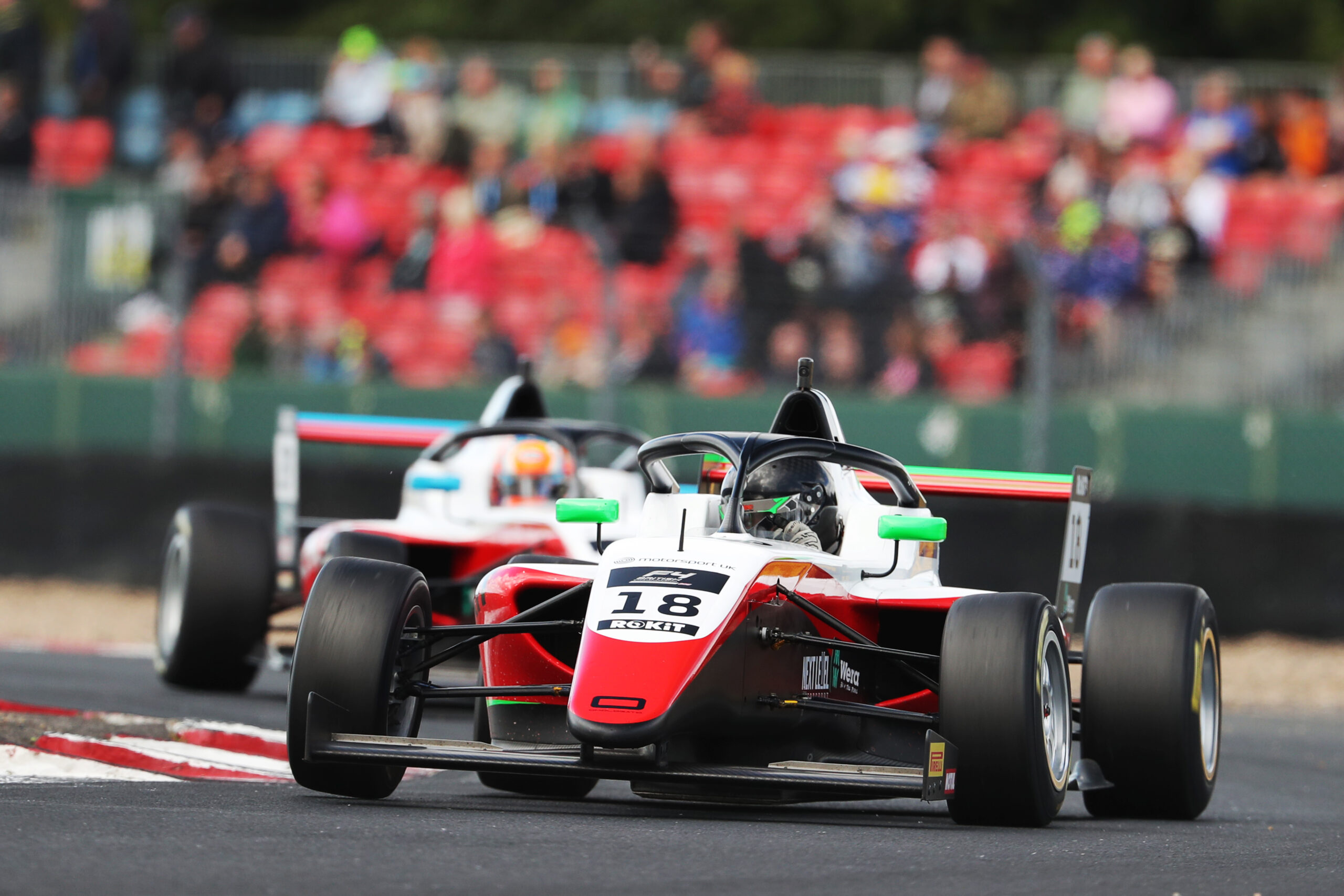 31 Jul

James Higgins charges to British F4 podium at Croft

James Higgins scored his fourth podium of the season at Croft Circuit this past weekend (29/30 July) as the ROKiT F4 British Championship certified by FIA blasted back into life. 

Returning to single-seater action after a month-long summer break, the Fortec Motorsport driver charged to second place in the weekend's opening encounter after producing a superlative lap in qualifying. 

Arriving at the North Yorkshire venue having already chalked up two wins this season, the 17-year-old showcased his front-running speed during Saturday's aforementioned qualifying session – which saw him come oh-so close to clinching pole position. 

Punching in a best time of 1:17.622 around the 2.12-mile layout, the Goblin EV-backed driver came within a tenth of a second of top spot and despite his best efforts in the subsequent laps, he was ultimately unable to overhaul pole sitter Louis Sharp. 

Lining up on the front row of the grid for what proved to be a frenetic opening encounter, Higgins delivered a textbook performance behind the wheel of his striking red and white machine. 

Executing the perfect launch, Higgins held position and slotted into second place on the run down to the first corner. From there, the former karting ace shadowed race leader Sharp all the way to the chequered flag, clinching a well-earned podium finish. 

Higgins was able to showcase his overtaking prowess in the weekend's reverse grid bout as he fought his way forward from the rear of the field. Keeping his nose clean, the teenager made up a total of six positions to finish on the fringes of the top ten in 12th. 

Unfortunately, Higgins's weekend came to a premature end in Sunday's finale as he found himself the innocent victim of contact at the first corner, which left him beached in the gravel and scoring no points.

James Higgins: "It's been a bit of a mixed weekend if I'm honest! Coming into the weekend I was optimistic of picking up some strong results and although we're going home with a podium, I'd have liked to have had more. 

"Pole position was there for the taking in qualifying but we just couldn't extract that last tenth that was needed. Then in races one and two it was just about keeping my head down, punching in the laps and progressing where possible.

"To end the weekend in the gravel trap was frustrating, especially as I feel we both could have made it around the corner. Thankfully Knockhill is only a couple of weeks away now so I'm fired up to make sure we bounce back there."

The ROKiT F4 British Championship certified by FIA now heads north of the border to Scotland for Rounds 22, 23 & 24 of the 2023 season at Knockhill.