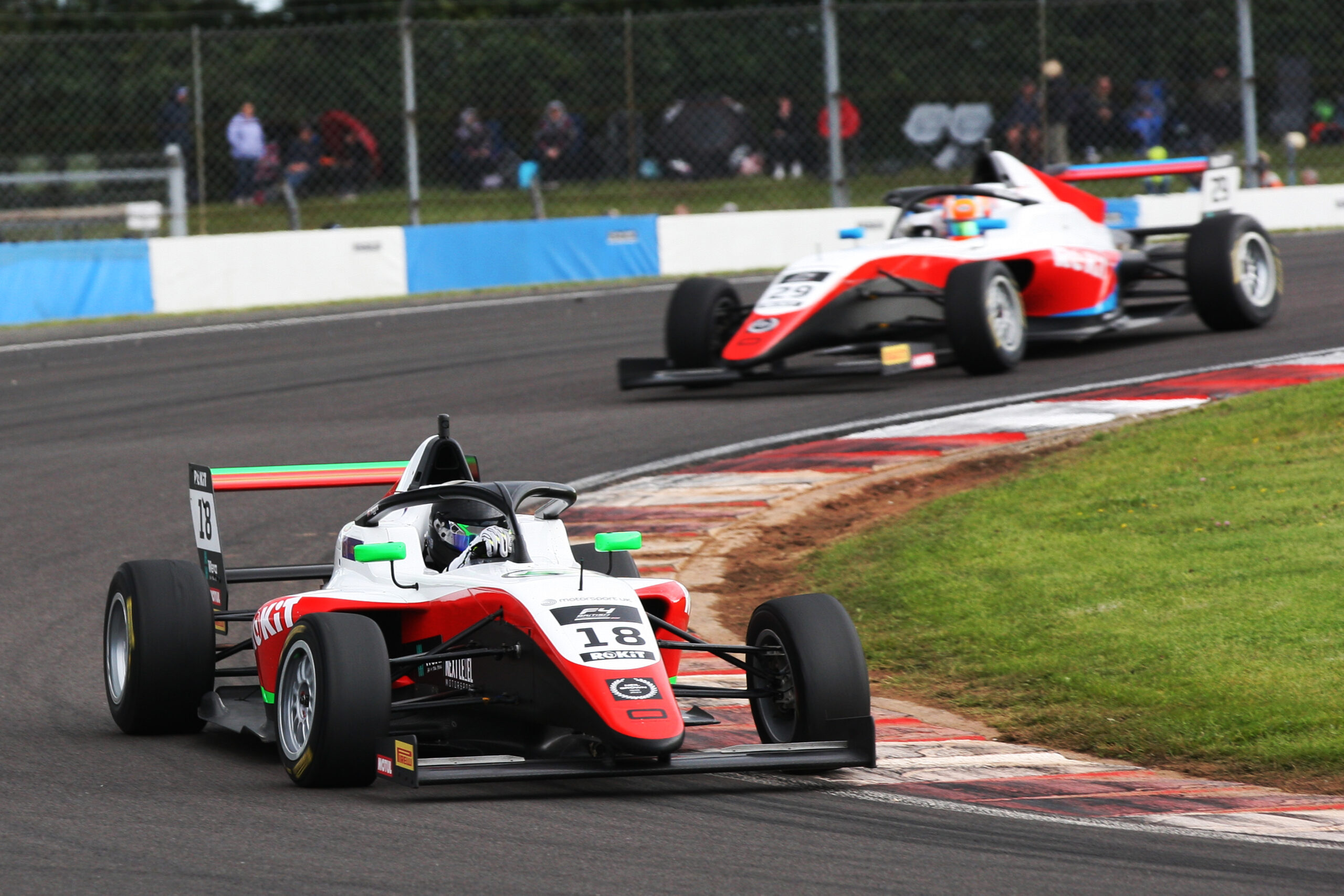 28 Aug

James Higgins scores surprising British F4 podium at Donington Park GP

James Higgins tallied his sixth podium of the season in somewhat surprising fashion at Donington Park this past weekend (August 26/27) to maintain his top five challenge in the ROKiT F4 British Championship certified by FIA.

The Fortec Motorsport driver produced a battling display during a penultimate event of the season that saw no less than four races take place. 

Finding the limit of the world-famous GP circuit during Thursday's practice sessions, the 17-year-old produced an ultra-committed lap in qualifying to secure a third row start for the weekend's opening encounter.

Race one would see Higgins underline his speed with a measured drive as he hovered around the front-runners, clinching valuable points with a fifth place finish.

Saturday's second race – which was originally scheduled to be run at Snetterton back in May – saw Higgins chalk up yet another rostrum of the season in what was a real race of attrition around the 2.487-mile circuit.

Lining up sixth, the teenager dropped to eighth in the opening exchanges but soon managed to fight his way back up the order and into sixth. From there, Higgins – who was one of the fastest drivers on track – found him in a long line of cars unable to progress. 

Destined to finish sixth, a remarkable turn of events played out in the latter stages as a host of drivers ahead of him all received five-second time penalties, which bumped him up the order and onto the rostrum in second place.

Sunday's reverse grid encounter proved to be one packed with action as the single-seater series duked it out in challenging wet conditions to progress from 17th up to 11th. 

Higgins then brought the curtain down on his weekend with another fine drive as he kept his nose clean to clinch more valuable points courtesy of finishing fifth.

James Higgins: "I've got to be honest, that podium was unexpected but I'll certainly take it. We were in the thick of the battle and crossed the line in sixth I think; so to then be told we were promoted to second was a welcome surprise. 

"We've had relatively good pace throughout the weekend and whilst I'd like to have come away with a few more trophies we can still be pleased with our efforts. The GP circuit was a proper challenge and it provided some new spots for overtaking which is great.

"There's no just one round left to go in the season and with the championship title out of reach the aim is going to be simple; to score three big results and see what silverware we can head into the winter with."

Brands Hatch's legendary Grand Prix circuit plays host to the final three races of the ROKiT F4 British Championship certified by FIA season on October 7/8.