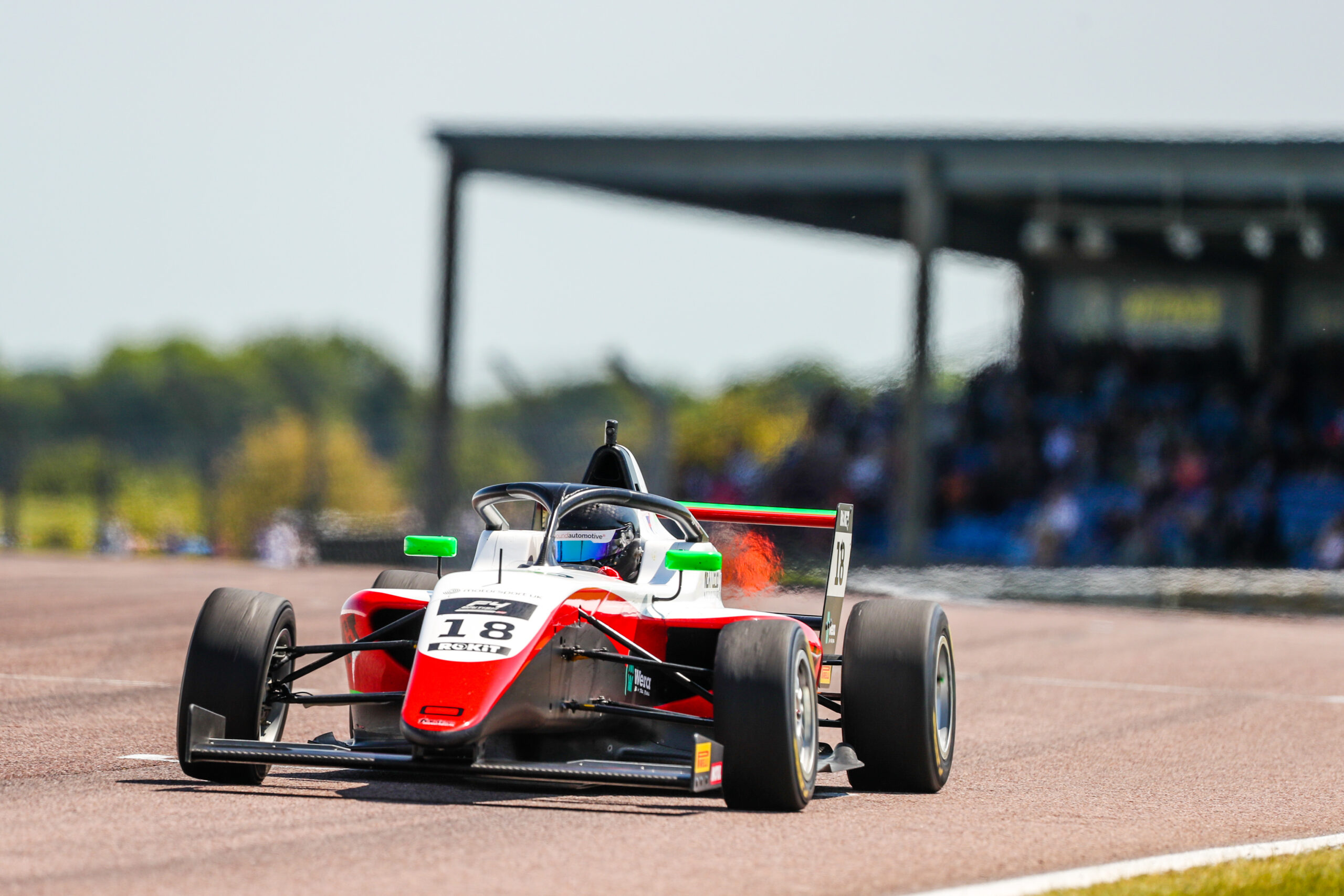 05 Jun

James Higgins out of luck at Thruxton

James Higgins endured a weekend to forget during the latest rounds of the ROKiT F4 British Championship certified by FIA this past weekend (June 3/4) as bad luck blighted him at Thruxton.

Taking on the fastest circuit in the UK, the Fortec Motorsport driver ended up with just a solitary points finish after suffering a frustrating three races in the bright Hampshire sunshine.

On a weekend that saw the series' biggest-ever grid, qualifying proved to be an ultra-competitive affair as the entire 23-car field was covered by less than a second around the 2.36-mile high-speed layout.

With times continuing to tumble throughout the 20-minute session, Higgins – who is backed by Goblin EV and Outbound Automotive – punched in a time good enough for the seventh row of the grid.

Lining up in 14th for the weekend's opening contest, the teenager made a lightening start to gain a handful of positions and soon set his sights on making further progress up the order; ultimately moving up to tenth by the chequered flag.

Race two would see the sophomore racer then produce a damage limitation drive to finish 17th after sustaining substantial damage at the chicane following contact from a rival car. 

Unfortunately, Higgins' Sunday went from bad to worse in race three as he was forced to retire the car at mid-distance due to a mechanical issue.

James Higgins: "It's been a really trying weekend and one that I'm keen to move on from as quickly as possible.

"We didn't hook things up in qualifying and that ultimately dictated how the rest of the weekend was sort of going to pan out. I was happy with the progress we made to get into the points in race one but races two and three were really tough. 

"I'm keen to put this one behind us and immediately begin focusing on the Oulton Park/Silverstone double-header we've got coming up in a couple of weeks. Hopefully we can get back towards fighting at the front there."

Rounds 13, 14 & 15 of the ROKiT F4 British Championship certified by FIA take place in less than two weeks' time on June 17/18 at Oulton Park.