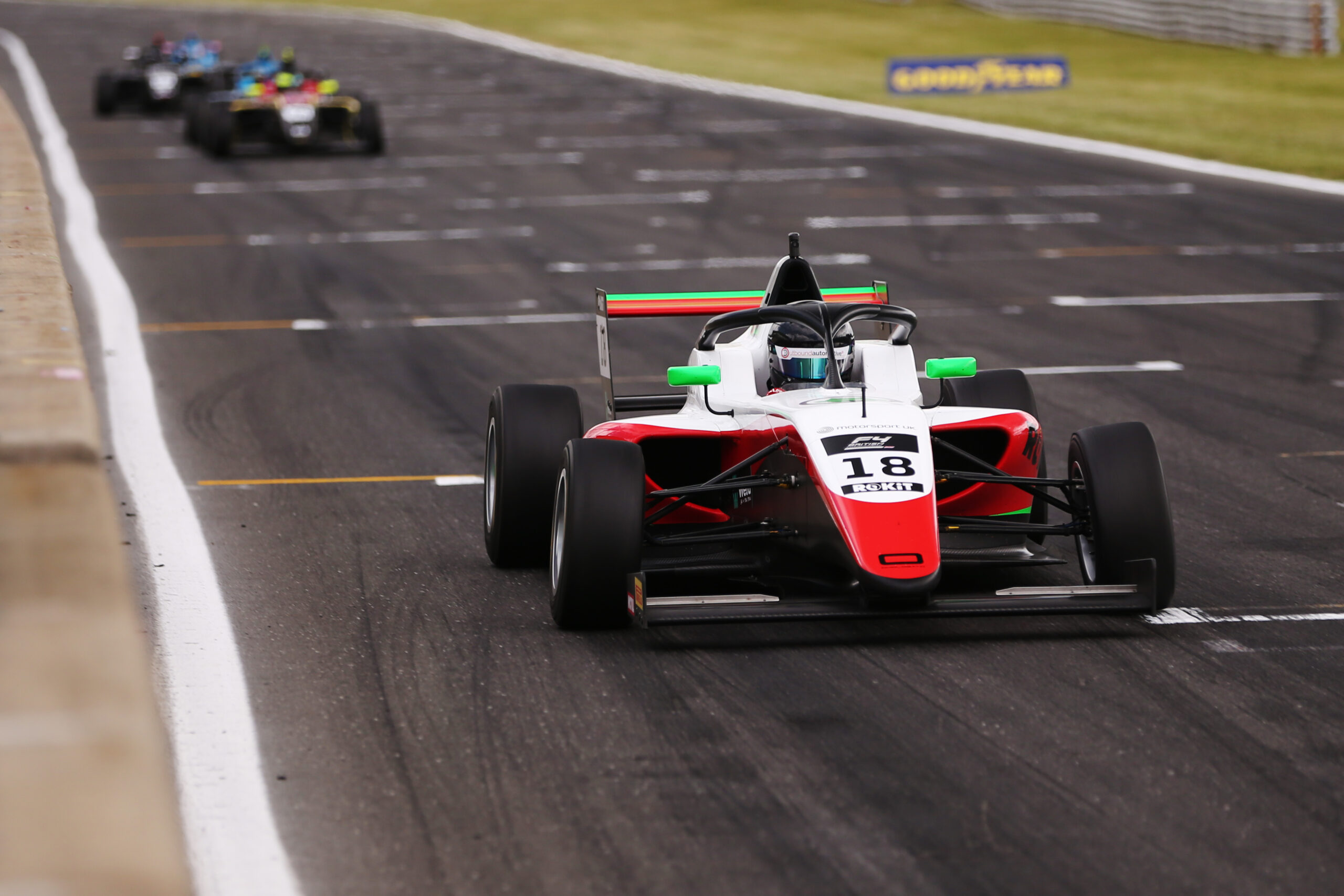 22 May

Weekend of frustration for James Higgins at Snetterton

James Higgins saw his pace go unrewarded on what was an otherwise frustrating third meeting of the ROKiT F4 British Championship certified by FIA season this past weekend (May 20/21) at Snetterton. 

Sluggish starts and an abundance of safety car periods all transpired against the Fortec Motorsport driver, who ultimately left the Norfolk venue with a single hard-fought top ten finish to his name.

A fortnight on from clinching his maiden victory in the single-seater series at Brands Hatch, the 17-year-old arrived at the 2.97-mile circuit full of optimism and quickly made his mark by lighting up the timesheets during Friday's two practice sessions.

Come qualifying on Saturday, Higgins was one of a number of drivers that was in the mix for pole position but such is the competitive nature of this year's championship, the Goblin EV and United Rental Systems-backed driver had to settle for eighth.

Unfortunately, the weekend's opening race didn't unfold as anyone planned with incidents on the opening lap bringing out a safety car and then a red flag. On the restart there was to be more chaos as a second incident once again brought proceedings to a halt. 

With significant damage to the armco barrier to severe to fix before the circuit curfew, officials declared that the race was null and void and will instead be re-run at Donington Park on August 26/27.

Returning to action on Sunday, Higgins' frustrations continued in race two. Struggling to get his single-seater machine off the line, the teenager dropped down the order and due to a handful of safety car periods, he could only manage to recover 15th at the flag. 

Higgins was blighted by another stagnant launch during the weekend's finale and despite punching in times quicker than those ahead of him, he was unable to make any in-roads in position – settling for ninth at the line. 

James Higgins: "It feels like it has been a bit of a missed opportunity this weekend. We've had really good pace in the car but some poor starts and not having a clean run of things in the races that did take place meant we were up against it.

"I'm not too sure what happened off the line in races two and three but it is gonna be something we look into. Once we did get away though I had enough speed to move forward but the safety car stoppages and tight nature of the circuit made it a struggle.

"We're off to Thruxton next in two weeks' time – a circuit I've done plenty of testing at – so I'm feeling optimistic that we can bounce back with three solid results and get back into the thick of the title battle."

Leaving Snetterton, Higgins sits sixth in the overall Drivers' Championship, 32 points off the summit. 

Rounds 10, 11 & 12 of the ROKiT F4 British Championship certified by FIA takes place in less than two weeks' time on June 3/4 around the fastest circuit on the calendar, Thruxton.